Workers' Compensation
Holcomb Law Group's workers' compensation lawyers provide a broad range of legal services in its representation of employers, insurance carriers, self-insured employers, and third-party administrators.
Early evaluation and advice to employer and carrier post injury and prior to litigation
Early evaluation of compensability, settlement and exposure value
Aggressive defense throughout litigation through a hearing on the merits when necessary
Prepare all settlement paperwork for presentation and approval from administrative law judge
Knowledgeable evaluation and implementation of steps to protect Medicare's interest in settlement process
Due to our long-standing practice as workers' compensation defense lawyers, we have developed extensive experience in the law and procedure of the Mississippi Workers' Compensation Commission. We strive to provide the highest quality legal representation in workers' compensation matters. Once a claim is made against one of our clients, our lawyers aggressively defend our client's interests.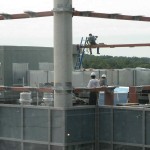 Contact Us
Oxford Office:
400 Enterprise Drive
Post Office Drawer 707
Oxford, MS 38655
Phone: 662.234.8775
Jackson Office:
760 I-55 North, 3rd Floor
Jackson, Mississippi 39211
Phone: 601.351.9335
Memphis Office:
5100 Poplar Avenue, 27th Floor
Memphis, Tennessee 38137
Phone: 901.322.6113