Mother's Day and Lawyers
Origins of Mother's Day
Origins of Mother's Day can be traced to17th century England and had more of a religious significance.  The celebration did not immediately cross the Atlantic with the early settlers to America.  There was a brief resurrection of the celebration in the late 1800s by Julia Ward Howe, who you may recognize as writing the "Battle Hymn of the Republic."  At that time, however, Mother's Day was a day for women to unite against war.
Modern Mother's Day
A Mother's Day which resembles today's celebration was first held in 1908. Ann Jarvis  held a memorial for her mother at St Andrew's Methodist Church in Grafton, West Virginia.  Jarvis wanted to celebrate hers and all mothers because they were "the person who has done more for you than anyone in the world".
And with the help of her lawyer, in 1912, Jarvis trademarked "Mother's Day".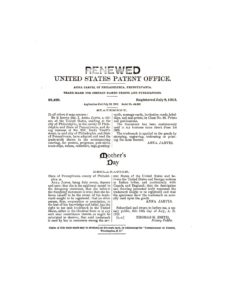 In 1914, Woodrow Wilson, also a lawyer, signed a proclamation designating Mother's Day to be held on the second Sunday in May, as a national holiday to honor mothers.
By the 1920s, however, Jarvis grew unhappy with the ways in which the day was celebrated. The transformation into a profit-driven holiday moved her to boycott the holiday she founded. By that time, Hallmark Cards and other companies were selling Mother's Day cards and candy.
"A printed card means nothing except that you are too lazy to write to the woman who has done more for you than anyone in the world. And candy! You take a box to Mother—and then eat most of it yourself. A pretty sentiment."
-Jarvis
Jarvis believed Mother's should be honored with handwritten letters expressing their thanks, love and gratitude.  As time passed, Jarvis organized boycotts and with the help of her lawyers, threatened lawsuits against card and candy companies.  She protested a 1923 candy makers' convention.  And by 1925, she became so incensed that the American War Mothers were raising money by selling Mother's Day carnations that her protest ended with her arrest for disturbing the peace – which certainly caused her to consult lawyers.
This Mother's Day
So, this Sunday in honor of Ms. Jarvis, the lawyers of Holcomb Law Group recommend a nice handwritten thank you to your mothers who, as she said, 'has done more for you than anyone in the world.'  And, yes, even more than your lawyer.
Happy Mother's Day!
Please follow and like us: